UpCraft a CD to create this snowman ornament for your holiday decor.
It's always a special day when Frosty comes to life so put your magic hat on and make this festive ornament for your Christmas tree.  Plus, we've all got old CDs laying around so instead of them collecting dust, put your craftastic touch on them and get making.  It's easy when you take old CDs, cardstock, felt, fabric and a little crafting inspiration!
If you're ready… let's get started!
SUPPLIES:
Old music CD
Holiday themed Cardstock
White & Black Felt
Petite Orange pom pom
Fabric scraps
Sparkly Pipe Cleaner
Trim or yarn
Ribbon or Twine
Hot Glue
Marker
Scissors
Wire cutter
MAKE IT:
Using your marker, trace around the CD on a "holiday themed" piece of cardstock.  Cut 2, one for the front and one for the back of the CD. Place the cardstock over the CD and trim the edges with scissors.
Hot glue the first piece of cardstock on the CD.
Next, cut 2 inches of ribbon or twine and place it in a loop on the side of the CD that is not covered with cardstock. Hot glue it in place.  This will be used as the hanger for your ornament.
Now, glue the second piece of cardstock over the ribbon and on the uncovered side of the CD.
Next, create 3 circles from the white felt. You can cut them freehand or trace around 3 small round items like a shot glass or a quarter.
Lay them on the front of the covered CD, overlapping the circles and glue them in place.
With a dab of hot glue, stick the petite orange pom pom for the nose. You can also use orange felt or another embellishment.
To create the eyes made out of coal and the top hat, simple cut two pieces from the black felt for the eyes.
For the top hat, cute a square from the black felt, clip the sides in on both sides and then clip down from the top to create the brim of the hat.
With your wire cutters cut 2 one inch pieces of pipe cleaner and stick them under the second circle of the snowman and glue in place.
Our snowman needs a scarf so cut a long narrow piece from your fabric scrap. Fold it in half and glue it together then fold it in half again so the tails are hanging and it resembles a scarf. Glue the neck piece of the scarf on the snowman.
To finish, edge the decorated snowman CD with trim or yarn. Using hot glue or all purpose crafting glue, cover the edge of the CD with the trim or yarn gluing section by section as you go around the CD.
You can add another snowman on the backside OR you can add stickers or other embellishments; we added stars!
And there you have it, a great way to repurpose old CDs and create fun and festive ornaments for your holiday decor.
Snowman decor is the hottest trend this holiday season and there are so many ways to incorporate a snowman into your decorating. For more inspiration take a look at what my friends are doing with their snowman decor!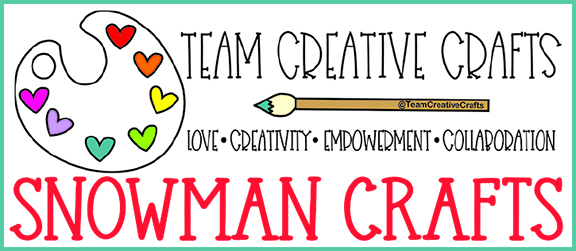 Make a DARLING Polymer Clay Snowman Necklace with a quick and easy tutorial from Laura of Me and My INKlings to wear the entire holiday season!
Smitha from Smiling Colors is sharing a step-by-step tutorial to teach you How to Draw a Snowflake in just four simple steps.
Keep the kiddos busy on those snowy afternoons with a fun Free Printable Snowman Word Search created byLaura of Laura's Crafty Life.
Shani from Sunshine and Munchkins has a Free Printable 6-in-1 Snowman Activity Placemat for some extra fun this winter without the cold.
Make this simple DIY Felt Snowman Wall Hanging for indoor fun with the kiddos all season long! Justine from the Little Dove shows you how!
Erica from 5 Little Monsters always has the CUTEST projects and this cuddly Crocheted Plush Snowman is sure to keep the chills away this Winter.
Brighten those dreary Winter days with a colorful DIY Snowman Suncatcher that makes the perfect front door greeting. Get the full instructions from Katie over at the Crafty Blog Stalker.
Chelly from We Can Make That has a festive Snowman Tag that is not only super sweet but quick and easy too with her Free SVG File.
Download and print a Free Juggling Snowman Coloring Page to keep the kiddos busy whether it's a snow day or not. Hand drawn by Beth of Creatively Beth.
Lindsay with Artsy Fartsy Mama is sharing the recipe for DIY Snowman Bath Bombs that are not only ADORABLE but will warm you on a chilly Winter day.
Up Craft an old CD to create this adorable and ecofriendly DIY Snowman Ornament. Jane with DIY by Jane takes upcycling to a whole new level.
Create fun and festive DIY Dollar Tree Snowmen Votives with light up noses. Beth with Creatively Beth will show you how.
Lindsay from Artsy Fartsy Mama is sharing the tutorial for Polymer Clay Snowman Earrings that won't melt all Winter long!
Create a DIY Let it Snow Sign with free SVG Snow Globe cut file from Liz at Liz on Call to decorate you wall or mantle all Winter long. And now you have the song stuck in your head too – LOL!
Building a snowman has never been easier than with this step-by-step DIY Wooden Clothespin Snowman Ornament project created by Heather of Homemade Heather.
Candice from She's Crafty is sharing a fun and festive DIY Rustic Snowman complete with a plaid scarf, twig arms and a SNOW banner.
Get the kiddos involved in making a keepsake Fingerprint Snowman Ornament that shakes snow just like a snow globe! Marissa from Rae Gun Ramblings has the complete instructions!
Debra from Debra Quartermain Designs has an easy Plush Softie Snowman to make and enjoy all winter! Click through to see what this frosty pal is made from.
Perfect for all the hot cocoa you can drink this Winter, create an ADORABLE Snow Couple Travel Mug Set with Free SVG files from Diana at the Girl Creative.
Laura from Me and My INKlings always has the most DARLING projects, and these Upcycled Jar Snowmen are perfect for all your gift giving this holiday season!
Craft a cute little Plush Snowman from a Dollar Store Beanie with this fun tutorial from Michelle of Michelle's Party Plan-It. Perfect to make with the kiddos!
Blanca from Creativities Galore is sharing a super cute DIY Snowman Ornament to make with the kiddos on a snowy afternoon with limited supplies.