Grab a seat with this easy to make Sit-Upon craft for your next camping trip!
A Sit-Upon is something I remember making as a Girl Scout to use during camp.  Back then, we used newspaper and plastic tablecloths, but today, with so many innovations in craft supplies the ideas are endless.  One thought is to use colored duct tape to create the exterior and then stuff the inside with plastic bags (a great way to recycle those because we all have so many!) or, you can buy a plastic tablecloth and sew a square pocket to stuff with filler for your Sit-Upon.  When challenged with an idea for "camping crafts" (Admittedly I haven't camped much since my girl scout days), my mind immediately went to the craft I loved to make, plus its practical.
Today, I have an easy no-sew project to create a colorful Sit-Upon that can be done in no time. Perfect for busy moms, teachers, scout leaders, plus it's easy enough that even young adults can make their own.  The cushioned sit-upon is comfortable, clean, lightweight, and perfect to have on hand at a picnic, campground or outdoor event.
Let's make it!
SUPPLIES
Vinyl fabric or Oil Cloth
Fairfield Cushion Foam
Kai Crafting Scissors
Hole Punch
Twine or Cording
MAKE IT
First, you will need two pieces of vinyl fabric. It's great idea to use two different patterns or colors of fabric for each side of the cushion.
To ensure the size is correct, trace around the foam cushion on the vinyl fabric and cut out two pieces.
Next, layer the two pieces of fabric on top of one another and using your hole punch, punch a holes thru both pieces – about an inch apart – all the way around the circle.
With the right sides of the fabric facing out, start by threading the cording thru the first hole and then around the next five holes. Open the top piece and place the cushion inside the two pieces and continue to lace the cording thru the holes all the way around the circle.
Be sure to tight and secure the cording as you go.
Once you reach the last hole, tie the cording in a double knot.
Cut the length of cording you need for a handle and tie the ends of the cording together.  You can leave 6″-10″ so it is easy to carry or hang on a backpack.  Or you can choose to leave the rope long and create a cross-body strap for easy carry as well.
And there you have it, an easy to make, soft cushioned Sit-Upon perfect for your next camping adventure, picnic, beach party,  or outdoor event.  Think about the patterns and prints to use for specific events; try patriotic print for a fireworks celebration or checkerboard print for picnics.
With a little inspiration and some imagination you can get creative with your outdoor and camping craft projects. Check out what my craftastic friends came up with!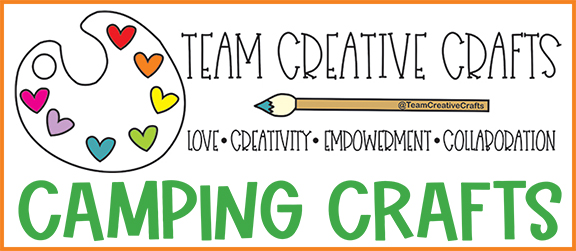 Learn How to Make Gods Eyes from Laura at Me and My INKlings
DIY Paracord Keychains from Lindsay at Artsy Fartsy Mama
Dollar Tree Craft Stick S'mores Kids Craft from Beth at Creatively Beth
Reverse Canvas Camping Sign from Laura at Laura's Crafty Life
How to Create Rock Paintings from Smitha at Smiling Colors
Free Printable Forest Animal Stick Puppets by Shani at Sunshine and Munchkins
Nature Inspired Felt Garland from Justine at Little Dove
Freezer Paper Stencil DIY Scout Shirts from Katie at the Crafty Blog Stalker
How to Make a Sit Upon for Camping from Jane at DIY by Jane
Free Printable Camping Nature Scavenger Hunt from Beth at Creatively Beth
DIY Beaded Wind Chime from Lindsay at Artsy Fartsy Mama
How to Build a Candy Campfire from Laura at Me and My INKlings
S'more the Merrier with Free Cut File from Liz at Liz on Call
Camping Queen T-Shirt with Free Cut File from Ginger at Ginger Snap Crafts
Free Camping Activity Printable Pack from Heather at Homemade Heather
DIY Camp Souvenir Picture Frame from Blanca at Creativities Galore
Rainbow Décor Summer Camp Craft from Marissa at Rae Gun Ramblings
How to Make T-Shirts for a Reunion Camping Trip from Jenny at Living in Upstate
Jane Clauss shows you the no sew trick to creating your own sit-upon. Learn more about why everyone wants to play with Jane!