Bunny Pots will have you Bottoms Up with Spring home decor!
When we think spring a healthy dose of flowers, color and bunnies go along with it.  And this bunny themed DIY idea will have you hopping with egg-citement the season.  Plus, as it sits out for people to enjoy, smiles are guarantees from everyone.  So, like these little rascals, let's take a dive right into this clever project and make it!

YOU'LL NEED:
an egg shaped styrofoam ball
large felt or plush fabric (white, grey or pink)
assorted felt pieces (grey or pink)
8 small pom pom balls
1 larger pom pom ball
small bunch of faux spring flowers and greens
medium size flower pot
straight pins
MAKING IT:
First, cut a large piece of plush fabric; enough to cover the styrofoam ball and wrap the foam ball with the fabric. Pin each section in place.  Pinning creates no mess and it's easy to secure the edges.  Be sure to have the raw edges that pinned in place secured on the  round end of the egg-shaped foam. This end will be set into the pot and the ends will be hidden.
Now, cut out teardrop shaped pieces of felt to create bunny feet.  You'll need two per bunny butt.
Glue the small pom pom balls on the round end of the felt.
Glue the feet on the pointed end of the foam, evenly spaced apart, and glue the large pom pom on the pointy end to create the cottontail between the bunny feet.
Using a rubber band, bundle faux spring greens and secure them together.  Stick the flowers in the pot and the now covered foam ball inside the pot.
And there you have it, bottoms up on a cute spring display. Use different colored plush fabrics and see your pots multiply like bunnies.
Enjoy your festive spring decor and go bottoms up with this fun twist on an Easter Bunny.  If you want more Easter inspiration check out this felt BUNNY canvas wall hanging.
Hoppy days are here again!
For even more SPRING inspiration check out what my craftastic friends are doing!
DIY Felt Heart Garland from Laura at Me and My INKlings
Happy Daisy Felt Wreath from Beth at Creatively Beth
Felt Farm Finger Puppets from Lindsay at Artsy Fartsy Mama
DIY Felt Flower Wreath Tutorial from Smitha at Smiling Colors
Crayon and Coloring Book Tote from Shani at Sunshine and Munchkins
Travel Diffuser for Essential Oils from Justine at Little Dove Blog
Embroidered Felt Corner Bookmark from Erica at 5 Little Monsters
DIY Colorful Felt Garland from Katie at the Crafty Blog Stalker
Bottoms Up Bunny Pots from Jane at DIY by Jane
Felt Woodland Baby Mobile from Lindsay at Artsy Fartsy Mama
DIY Rainbow Felt Pencil Pouch from Beth at Creatively Beth
Felt on Wood Sunshine Wall Décor from Laura at Me and My INKlings
Farmhouse Felt Carrots from Debra at Debra Quartermain Designs
Felt Cat Bookmark with Free Cut File from Liz at Liz On Call
Easy Felt Easter Egg Pouch from Blanca at Creativities Galore
Wocket in My Pocket Felt Doll from Marissa at Rae Gun Rambling 
Stacked Felt Rainbow Kids Craft from Laura at Me and My INKlings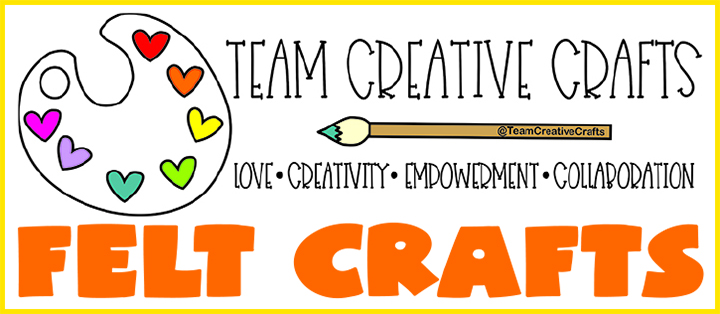 Jane Clauss is an enthusiastic DIY maker and content creator with a passion for sewing. Find more information about Jane here.